Health & Sanitation
The Peoples Trust provides a number of dispensary services for the community. Here is a comprehensive list:
Referral services for higher medical treatment.

Regular special camps for Dental, Eye screening and operation for implantation of IOL (Intra Ocular Lens), Family planning, cancer detection, ENT etc.,

Health and Hygiene education for the Community.

Reproductive Child Health care services (antenatal care, intra-natal care, postnatal care, adolescent problems, guardian issues, child health, family welfare, reproductive tract infection).

School Health education and Health check-up for children.

Immunisation, ANC check up, TT for pregnant mothers.

Awareness about AIDS, Adolescent problem, Breast feeding, First Aid, ORT, ARI, Ill effect of using Tobacco, Alcohol etc.,

Training for Local Dais (mid-wives) for conducting safe home deliveries.

De-worming, Vitamin A, Pulse-polio for children.

Child Guidance Centre for child behavioral problems (Bio-psycho social scholastic intervention).

T.B. treatment

Rational Drug Therapy (dispensing of generic drugs).

Blood donation camps by community youth.

Providing safe sanitary disposal facilities.

Co-ordination with Govt. Agencies for providing potable drinking water for the community.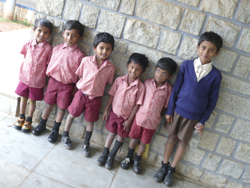 The Peoples Trust believes understanding the stages of child development is important. These includes Pre-natal development (conception to birth), Neonatal (Birth to 2 week) - Biological to trio-psychological, Infancy (2 weeks to 2 years) – transition from relative function to psychosocial control and Early childhood (2 to 6 years) – Pre-school period, Gains control over environment, Social Adjustment, learns to talk, learns words, eats solid food, develops conscience.
Established 23 Pre-school Centers for promoting formal Pre-school Education for 2 to 6 years children.

Provided indoors and out door play equipments to enable and facilitate child to improve child's physical and mental development.

Adopting comprehensive thematic approach to teach children for language learning, physical, mental, social and psychological development.

Periodic evaluation of child growth through evaluation method.

Expose children for Social/cultural gathering and environmental awareness.

Providing nutrition food and monitoring of nutritional status regularly and providing special supplementary nutrition food for II and III degree malnourished children.

Protect children from 6 killers' diseases through immunization.

Support slow learners through child guidance program in order to improve their learning skills.

Create awareness to mothers about various aspects of ECCD through Mother's Club.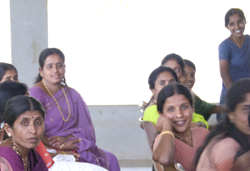 There are a number of programs provided by The Peoples Trust to aid in the development of women:
Promotion of Women's Associations / Mahila Mandals.
Organising various competitions for the women.
Celebration of International Women's Day.
Assistance to Socially disabled ladies.
Animal Husbandry training for women (Dairy, Poultry).
Skill promotion training in Tailoring, Knitting Embroidery, Agarbathi making, Candle making etc.,
Family health care education (Health, Nutrition services etc.,).
Promotion of SHGs and Federation for improving Women's Socio Economic status.
Promotion of Literacy among women.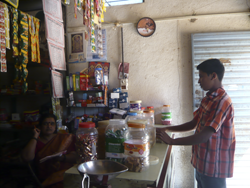 The Peoples Trust provides a number of programs to aid in the development of micro enterprise for villagers:
Assistance to small and marginal farmers in the form of High Yield seeds and fertilizers.

Assistance to farmers with Horticulture inputs like vegetable seeds, fertilizers and pesticides etc.,

Promotion of water shed program, Soaking Pits and bunds, for percolation to improve underground water table and rainwater harvesting.

Soil testing of farmers land and bring awareness to improve soil fertility.

Distribution of Fruit and other commercial plants to the beneficiaries to improve their economic conditions.

Training the farmers on compost manure and promotion and use of earthworm – Vericompost - for preparation of natural manure.

Training the farmers in various Scientific methods of Agriculture practices.

Promotion of kitchen gardening.

Training the farmers in Rabbit rearing, Piggery, etc.,

Promotion of crop Insurance for farmers.

Sericulture training for the farmers.

Awareness among students on Agriculture and horticulture through demonstration crops.